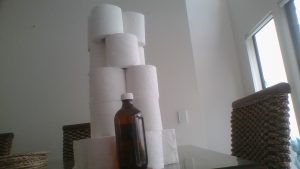 I will be safe!
For sure, I have enough toilet paper to throw at the virus…
-if that helps!-
…but I have also got this little brown bottle!!!

The little brown bottle contains an ANTI-VIRAL remedy.
It's really, really as easy as that!

Since long, various ANTI-VIRAL remedies have been available!
Effective AND cheap!!!
All of those remedies have been pushed under the carpet and poopooed by
the Medical Mafia and their allies
The more effective, the more poopoo…

"Who doesn't listen, has to feel!"
One of our old German proverbs
TRUE

Most of the information about Modern Medicine is out there
Much information about ANTI-VIRAL remedies is out there!!!
You can either listen to it…
…or FEEL…
FEEL the consequences of a deluded Medicine,
which has lost all possible scientific and ethical standards-
for their own gains and monetary profit.
If you keep following this collective delusion…
…FEEL…

If you want something different:
DARE THINKING!

WHY actually are we sooo upset about this little virus?
We have gotten used to peple dying before their time on a huge scale:
Heart attack, Dementia, Cancer
The figures for DIS-EASE are sky-rocketing-
despite all our -sooo 'scientific'- efforts.
WHY don't we simply get used to dying before our time?

The answer is quite simple here:
We actually DO!
Since long, we have put up with it.
Dying of old age has become a rare priviledge.
Most of us die from some 'killer-disease'.
And we put up with it.
But we don't seem to put up with the little Corona-virus.
WHY?

If you die slowly, it is hard to pinpoint the 'culprit'.
If you die quickly, there is some kind of 'murderer' behind it.
As long as we can identify the 'agressor', we feel 'attacked'.
If we cannot identify the 'agressor', we simply put up with it.
We have collectively, since long, put up with:
DYING BEFORE OUR TIME.

The CORONA crisis bears a CHANCE!
Every CRISIS bears a CHANCE.
The CORONA-CHANCE is:
Some people might understand, that
FAKE MEDICINE
is 
FAKE MEDICINE!

We DO NOT have to put up with it!
NOT with dying quickly
AND
NOT with dying slowly!

For any change to happen,
we need to identify, what is really making us ill…
..what makes us die before our time:
IGNORANCE and ARROGANCE 
of our medical 'specialists'
keeps keeping us in the Dark.

They cannot even do their own homework properly any more!
Australia's Minister of Home Affairs,
Mr. Peter Dutton
has tested positive for the Coraona Virus yesterday.
3 days prior to that, he is pictured sitting next to the PM
But, surely…, the PM is out of the woods,
says some 'medical expert'.
Really???

Where did 'expert' get this from?
Assumptions, I assume.
Do we have any 'scientific' proof about the contagious period here?
Most viral diseases are contagious way before they show symptoms:
Chicken Pox 1-3 days
Measles 3-5 days
Rubeola 1 week
Why the assumption:
"Corona is only contagious 24 hours before symptoms"
I strongly doubt!
I doubt the expertise of any self-acclaimed 'experts'!!!

Meanwhile,
I am leaning back, watching it all unfold.
I feel happy with my toilet paper.
AND:
I feel 100% safe with the little brown bottle.

If you want to relax as well:
DARE THINKING!!!

CORONA means 'CROWN'
For sure – so far:
CORONA virus is FAKE MEDICINE's
CROWN!!!