Let me quote somebody more famous than I: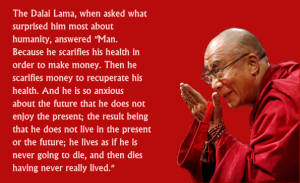 After diving into politics with my previous posts,
I will now focus on the spritual aspects of the
CORONA-CRISIS

EVERY DISEASE is a METAPHOR!
There is NO EXCEPTION to this rule.
Any metaphor is an attempt
to make the invisible…
VISIBLE

The visible disease of an individual is an attempt
to alert the ill person
of what is going wrong invisibly inside
The visible disease of the whole world tries to
alert us ALL
that something is going very wrong
almost INVISIBLY

If we want to understand dis-ease
on a spiritual level, 
we 'only' have to look at the picture, that is painted:
LOOK at the METAPHOR!

What does the CORONA-CRISIS look like?
The world is in a standstill!
MONEY
does not make the world go round anymore!!!
Is there anything more important than MONEY?
Could this more precious value be…our…
HEALTH???

The richest man on this planet cannot buy HEALTH!
Nobody can buy HEALTH!
HEALTH needs to be understood.
HEALTH needs to be valued.
HEALTH needs to be lived.

People rich and poor die of dis-ease!
People rich and poor die of Corona.
People rich and poor have come to CROWN a false king:
MONEY
People rich and poor disregard HEALTH,
in oder to obey to the rules of
MONEY
Somebody much more famous than I said:
"You cannot serve 2 masters!"
You either serve GOD…or:
MONEY

Whom does the 'disease-management-industry' serve?
Do they serve GOD???
If they did…
…would it not be easy to deal with a little virus?
 We are living in the 21st century!
We are flying to Moon and Mars.
We construct aeroplanes, computers, vacuum-cleaners
But we cannot deal with a little virus???
Seriously???
What if…
What if the 'disease-management-industry' served the wrong master?

What if…
What if HEALTH was in the focus of our endeavours?
What if HEALTH was more important than money?
What if HEALTH became our master???
What if…

If HEALTH became our master
we would LIVE our LIVES!
If we LIVED our LIVES,
DEATH would not be a threat anymore!

DEATH is part of LIFE.
DEATH is actually the ONLY security in LIFE:
100% sure we will die one day.
Only, if we have not LIVED,
are we afraid of DEATH!

Who has LIVED a fruitful LIFE,
does not fear DEATH!
Who has LIVED their LIVES,
will die peacefully and with dignity!

Who has failed to LIVE,
will keep 'waiting for an opportunity',
clinging to the most reduced existence,
at the cost of others!

LOOK AT THE CORONA-METAPHOR!

Every CRISIS bears a CHANCE!
This big CRISIS bears a big CHANCE!

People might wake up.
People might chose TRUTH over 'comfort'.
People might prefer HEALTH over 'disease-management'
People might understand, that you cannot buy HEALTH.
People might understand, that they have been serving the wrong master!
People might want to take the CROWN off the disease-management kings.
People might see, that this emperor is naked!

WHY NOT put HEALTH on the throne?
WHY NOT serve HEALTH in the first place?
WHY NOT CROWN HEALTH?